Beautifully handcrafted in Canada using sustainable ingredients, our reusable Beeswax and Vegan Food Wraps help make living a zero-waste lifestyle beautiful and easy.
Toronto Life - Green City
A Planet Friendly Guide to Toronto and beyond! For a greener shopping experience.  
Read More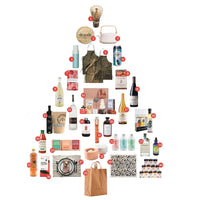 The Globe and Mail
Sustainable gift guide: 100 stylish gifts you'll feel good about giving – RANDI BERGMAN AT THE GLOBE AND MAIL
Read More
Beeswax and Vegan Food Wraps
Earthology Wraps - an eco-friendly replacement for plastic wrap!
WRAP 🌿 WASH 🌿 REUSE 
Made from the finest sustainable ingredients, Earthology Beeswax and Vegan Food Wraps are designed to make your life more beautiful while helping you live a zero-waste lifestyle. Use them to keep food fresh and lasting longer... say goodbye to plastic wrap forever!
Reviews
Easy to clean, lovely smell (I use the beeswax ones) - very functional. Gorgeous designs that bring me pleasure each time I use them - which is every day. They are so pretty that I want to get more! Make great gifts as well.

Naomi
Beautiful and functional! Purchased a 5-pack of wraps as a gift and they arrived looking - and smelling - even more lovely than I'd expected.

Justine
 Just got three packs to give as gifts! The quality and design are beautiful and strong. Would recommend to everyone!

Kavita